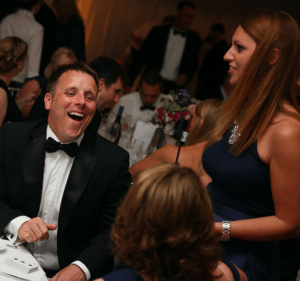 Magician London. Are you looking for a close up or table magician in London? Kat Hudson is perfect for parties, corporate events and weddings.
Her magical skills along with her sense of fun and charm will ensure she will be a hit, no matter what the occasion. She has performed at London venues such as Grosvenor House, One Marylebone, The Shard and The Yacht and has recently appeared on ITV's Britain's Got Talent and BBC1's Now You See It.
Corporate Magician London
She has worked at hundreds of corporate events and parties over the years. Companies such as O2, John Lewis, Siemens, Resourcefueled and booking.com (to name a few) have all benefited from a touch of magic. Being one of a handful of female magicians, Kat Hudson offers something a little different. Some companies have hired magicians in the past, but her style, personality and skills make her stand out from the crowd. Kat will perform around tables during the dinner if it is a formal event and give people something to talk about between courses. She will also perform to small groups during drinks receptions to start the evening off with a bang by amazing them with sleight of hand miracles. Producing a signed card from the back of a mobile phone or reading peoples minds.
Party Magician London
Whatever the occasion, Kat Hudson is the perfect magician to hire. As a close up magician she only needs to fill her pockets and away she goes enabling her to work in any environment. Her amazing magic and up beat personality always get people in a good mood and ready to start the evening well. Kat performs incredible magic such as producing a borrowed ring from a flash of fire! Having a magician is always lots of fun for everyone involved – having Kat Hudson is even better, she can make any party be one to remember.
Magician London Review
'I'd be grateful if you could pass our thanks on to Kat Hudson. She did an excellent job on the night. She struck exactly the right balance in being relaxed and sociable with the guests, whilst sparking up laughter and conversation during the dinner and managing to keep all the tables engaged. The fact that people were still discussing the act at 3am in the bar, and trying to work out how she did it, shows that she left a great impression.' Ellie, Siemens