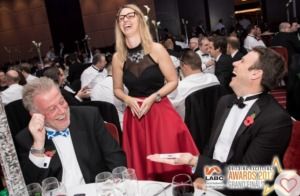 Having a great magician at your event is a really exciting option. Who else could you get to walk around and interact with your guests or colleagues and wow them with sleight of hand. What other form of entertainment can make sure it gets people laughing, talking and get hands on involved in the action? What other art form is transportable without having to set up a stage, a lighting system or a huge sound system? Close up magic is popular because, as long as you have people, it can travel anywhere, anytime.
Kat Hudson at your corporate dinner or party is a sure way to impress and entertain everyone.
Some people may have seen a magician before so choosing the right one for your event is important. Kat Hudson can bring something completely different (and not just because she's a girl) she can bring a bit of glitz and glam, whilst her northern charm and sense of humour will make it fun and enjoyable for all.
There are different stages when Kat Hudson can entertain your guests. You can have her walk around and show her amazing close up magic while your guests are having pre dinner drinks (the ultimate ice breaker) or if you are having a meal why not get her to show her outstanding table magic between courses.
Kat Hudson performs magic with money, card tricks (of course) and can show you her mind reading skills.
Get in touch today to see how Kat Hudson can help make your event a success.