No matter what your party is for, why not give it the wow factor and ask Kat Hudson to come along to entertain your guests?
She will really get the party started with her amazing close up magic.
Kat Hudson is the perfect magician to add a bit of glamour and magic. Although you can, you needn't tell your guests about the entertainment – let it be a complete surprise. There's nothing better than turning up to a party and an unknown person starts infiltrating a group of people that suddenly begin wowing everyone with magic and creating long lasting memories.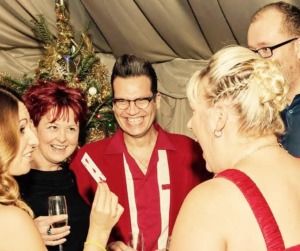 It will get people instantly surprised and wowed. People will look at the huddle of people clapping and whooping and wonder what is going on. It creates a real buzz round the room and sets a great atmosphere for the night ahead.
Having a magician at a party also cuts you a bit of slack. You can leave your guests to be entertained while you mingle at your own leisure. There is no need to walk round and hold her hand. She can rock up with her bag of tricks and start to mix and mingle, wow people then slip off into the night leaving people left to discuss what they have just witnessed and discuss their conspiracy theories as to how the tricks are done.
It is a great way to get people interacting with people they would never usually speak to.
So why not get in touch with Kat Hudson and see how she can help make your party stand out from the others.