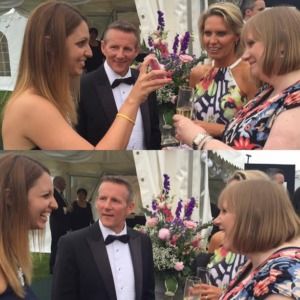 Close up Magic is the perfect way to entertain your guests at your wedding. As hosts, you can't be everywhere at once and doing the rounds you often don't get to spend much time with each of your guests. Knowing you have booked a professional magician to entertain whilst you are elsewhere, especially during those periods when you have everyone standing around with drinks or waiting to eat, will solve any anxieties you may have about your guests having a fantastic time.
There are 3 main periods when Miss Direction can entertain your guests
Wedding Option 1 – The Photo Period
During the photo periods is the perfect time to have some magic from Kat so she can wow and entertain. Kat Hudson will add fun and sparkle to your day, she can walk around and mingle with your guests and perform her amazing close up magic. There's no need to worry about what she's doing and to follow her around, leave the worrying to her and let her do what she does best, which is to give your day that special magic touch.
Wedding Option 2 – The Wedding Breakfast
When your guests sit down to eat is also a good time for a magician to entertain between courses with table magic. This gives groups of people a chance to enjoy the magic together whilst they're sat down and relaxed. Magic is a great talking point for your guests, it gets people talking about their shared experience. Often people are sat with people they don't know – magic is the perfect ice breaker to get them chatting away like old friends. Kat Hudson has a great way of including everyone in her performance and putting everyone at ease.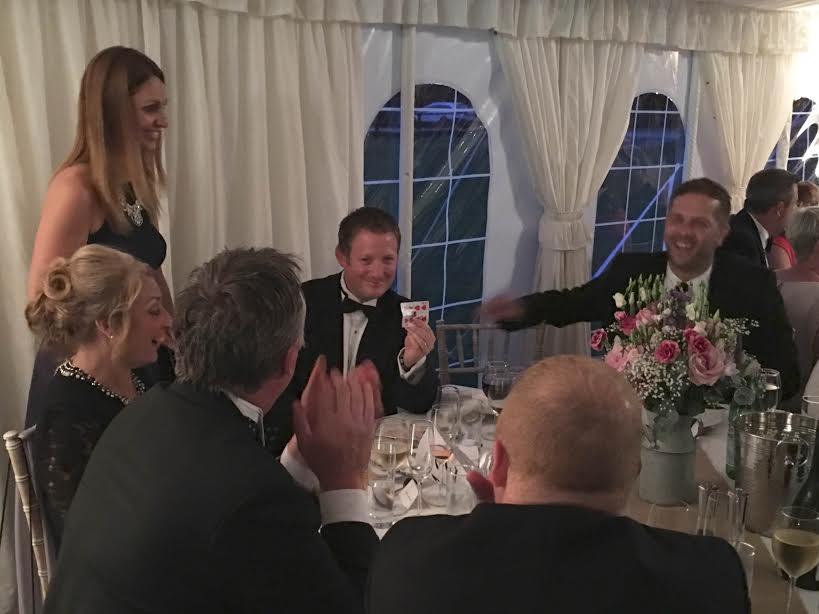 Wedding Option 3 – The Evening Reception
As the evening guests arrive, Kat Hudson will meet and greet and perform micro magic for small groups to really show it's going to be a fun evening. Also, this adds as an injection of wonder for the daytime guests who have been there for hours already.
Her friendly Northern charm helps her fit in easily with a broad demographic of guests and makes helping during during participation of the tricks something people love and want to do.