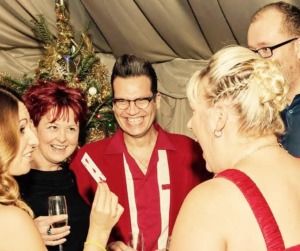 It's that time of the year again when you have been tasked with organising the work christmas party. How do you make it one that will go down in history as being the best night of everyone's lives?? (ok maybe that is going too far) Last year's highlight was Sam copping off with Mark from accounts, how can you make this one stand out for more earnest reasons??
That is where Kat Hudson comes in. Hiring a fabulous close up magician, can really offer something that will make the night memorable and a lot of fun. There are usually three options when arranging a Christmas party. A funny, gifted female magician (that's Kat Hudson by the way) to mix and mingle with your colleagues during the drinks reception, during the meal, or both. Whichever you choose, just make sure they are entertained and thinking about something other than how much of the free booze they can manage to get through.
Option One – Christmas Reception Magic
Whilst your colleagues are sipping on their free champagne or mulled wine, why not have her walk around and wow them. People tend to stand in small groups at parties and need a drink or two before they get into the festive spirit. Mix and mingle magic is the perfect way to get groups together and to get people interacting that wouldn't ordinarily do so. This could be the start of some new beautiful friendships which can always help in the work place.
Option Two – Christmas Table Magic
Seating everyone in time for the meal can be tricky when there's drinking to be done. Why not promise them something wonderful will happen when they sit down, it might make them hurry up. Performing magic at tables is wonderful for magicians as we get a captivated audience and we can keep a track of who has seen us. No one wants to miss out on the amazing things that are about to unfold right before their very eyes. It also helps with the quiet periods that can often follow after a course. You can only ask so many times how was your dinner before you even start to bore yourself – give them something amazing to talk about.
Option Three – Christmas Reception and Table Magic
As it's Christmas, why not go mad and spoil your lot. Book Kat Hudson for your full evening. She can give them a little taster during drinks to start the evening off and leave them wanting more. Then when they're seated and looking forward to a sit down and some food she can dazzle and amaze them with a full on performance one group at a time. After she has wowed and entertained all your colleagues and they are asking each other how on earth she made a ring appear in a flash of smoke and fire she will simply disappear into the night leaving them with amazing memories and asking themselves if in fact magic is truly real. They may even start to question if Father Christmas does exist after all! 🙂